Midtown NY 's Leading Choice For Gravestones
When You Need Gravestones For Your Loved Ones, Trust Supreme Memorials
When you need to choose a monument for a family member, there are many different choices you'll have available - but none of them are as renowned or timeless as hand-carved memorials. Our team is experienced enough to create any figure or figures into both granite memorials or headstones that help to create a one-of-a-kind monument that is beautiful, timeless, and honoring to the deceased.
Throughout the years we have provided our gravestones all throughout Midtown NY and New York, including cemeteries such as Greenwood Cemetery in Brooklyn, St. Johns Cemetery in Queens, St. Charles Cemetery in Long Island, and many more.
---
Custom Gravestones & Grave Markers In Midtown NY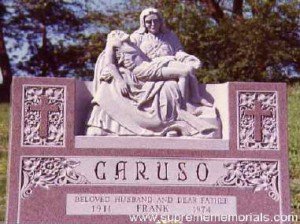 Trying to choose gravestone or grave marker can be a tough decision, which is why we try to make it as easy as possible for you. We can create any sized or style gravestone to serve as a memorial for your loved one. Our designs are custom, beautiful, long-lasting, and will help you to remember your loved one for years to come. Below are just a few of our gravestones that we offer throughout the Midtown NY area:
Upright Headstones
Upright headstones stand tall from the ground up and can be made out of various materials such as granite, brownstone, glass or marble. Most upright monuments today are crafted out of granite due to the natural strength and durability of the material.
Flat Headstones
Flat headstones are often referred to as ground-level headstones or grave markers. These headstones are flat and typically sit a couple inches off of the ground. Flat headstones are also commonly used as foot stone to a larger family monument.
Slanted Headstones
There are many variations of slant-style grave markers. Cemeteries have specific rules and regulations about the sizes of slant that can be used. A slant monument is normally low to the ground, lifting only 1-2 feet high, with the polished face sloping at about a 45-degree angle. Slant memorials are always supported by a foundation, which raises the slant marker off the ground as to not hide the lettering. The inclined inscription surface of slanted headstones not only contributes to the prominence of the inscription, but also, unlike the flat or flush marker, it sheds the rainfall and nature keeping it clean.
---
Grave Monuments
Bronze Monuments
Most often, bronze monuments are similar to flat headstones, but are made out of cast bronze instead of stone. In some cases, bronze cemetery markers are doweled and pinned into a granite base. Bronze is also used frequently for statuary work on cemetery memorials.
Bench Monuments
There are many types of benches used in memorialization of loved ones. Bench gravestones can be made in all shapes and sizes and are often used for fundraising sites, as accents to estate plots, and in the interior or exterior of private family mausoleums. Benches can also be used for entombing cremated remains of your loved ones.
Green Monuments
Green Monuments offered by Supreme Memorials, Inc. include natural boulders, river rocks and locally quarried granite. These green monuments are suitable for a burial memorization and are made from materials that are nontoxic and readily biodegradable. The materials are harvested locally, reducing the amount of energy required to transport them. Supreme Memorials, Inc. can help you make a green choice for a tombstone.
---
Testimonials About Our Gravestones in Midtown NY
"I was pleased to receive notice that the work on my family's gravestone was completed. Last week, I had the opportunity to make a visit to Holy Cross Cemetery and see the actual finished stone. I would like you to know that I am extremely pleased with this fine workmanship and care with which my problem was solved. My Family and I are very appreciative of your kindness, understanding and advice in solving this sensitive problem."

Brother Robert S. , OSF
---
"Your staff at Supreme Memorials did an excellent job inscribing our dads name on the tombstone in Resurrection Cemetery Staten Island New York. Unfortunately my dad passed only one year after you mad the stone for my mom. I really appreciate the personal service you gave to us, but I hope never to have to use your service again (really LOL) but if I do need a monument or if a family member or friend needs this type of service I will highly recommend you."

Mary F.
---
"Mike thanks for the excellent job your staff did on our stone. Your service was much faster then I expected. Even though you could not promise me the work to be done for mothers day because of cemetery permits that are needed to work on the stone. To my surprise I received a phone call on Friday before mothers day letting me know my moms name is on the stone."

Jillian C.
---
If you're looking for gravestones for your loved one's resting place, here at Supreme Memorials we can help. We have the largest selection of gravestones & grave markers throughout Midtown NY, whether you need custom or stock designs for your loved ones.