Mausoleums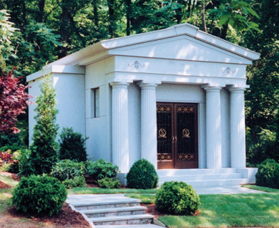 Supreme Memorials, Inc. offers a variety of both private and community mausoleums that are custom-designed by our team of experienced monument builders.
Supreme Memorials has decades of experience building mausoleums for families, cemeteries, churches and governments. We provide a variety of mausoleum options that can include hand-carved sculptures, columns, stained glass, etchings, and other custom options.
From your first consultation with one of our friendly and knowledgeable staff members, you will feel confident knowing we will put 110% of our expertise to work for you. During this initial meeting, we will help you determine a budget for your mausoleum and review the site survey of the cemetery plot to ensure that your family's legacy is properly preserved and represented for decades to come.
If you do not have a cemetery plot, arrangements can be made to assist you in picking the right cemetery plot for you. We will go to the cemetery with you and your family to help you determine what type and location are right for your mausoleum. We also offer sarcophaguses and columbaria.
---
Determining the Structure for Your Mausoleum
Mausoleums can be erected for anywhere from 1 to 24 interments, however, most mausoleums we make fall into the 6 to 12 interment range. At our initial consultation, we will show you different architectural plans of our recently completed mausoleums, including different artists' renditions along with actual pictures of jobs we have completed. We have an extensive portfolio of Mausoleums we have erected.
We will also help you choose the granite for your mausoleum. This is a very important step, as not all types of granite are created equal. We will help you choose a granite that provides a perfect combination of the desired appearance and physical strength.
---
Planning Your Mausoleum from the Foundation Up
Any monument is only as strong as its foundation. The key to any lasting mausoleum is careful planning in its earliest stages. Our team of Architects and Engineers carefully plans every aspect of the cemetery plot, such as pitching, grading and laying the foundation.
---
We Offer Both Private and Community Mausoleums
Private Family Mausoleums
Private family mausoleums allow the family be in total control of how they will be remembered for decades to come. A private family mausoleum perpetually stands as a testament to a family's style, distinction and accomplishment - a lasting symbol of lives that truly made a difference. There are many design options for the building layout, exterior, interior, and perpetual landscape of their mausoleum site.
Community Mausoleums
Unlike a private family mausoleum, community mausoleums are affordable, convenient, and provide an everlasting memorial to those entombed within. Families can purchase a space in a community mausoleum for one family member, or for their whole family. Some community mausoleums offer a semi-private space for families to purchase. For families wishing for above-ground entombment that cannot afford a private family mausoleum, or do not wish to undergo the planning involved with creating their own eternal estate, a community mausoleum is a viable choice.
Sarcophaguses
A sarcophagus is an above-ground tomb. Unlike a private family or community mausoleum, you cannot walk into a sarcophagus. A sarcophagus can be designed for one interment or to hold dozens of interments.
---
Custom Options for Your Mausoleums
There are many options available to help make your mausoleum custom. A custom mausoleum, when planned right, will reflect your own personal visualization. The options include bronze doors, stained glass windows, alters, entranceways, lobbies, sitting areas, and landscaping.
Entryways
Your private entrance to your family eternal estate can be enhanced by different mausoleum door options, granite benches, planters, steps, vases, sculptures, and art. We can even add marble sculptures and marble artworks if the cemetery allows. We can inform you if these options are available to you depending on the cemetery restrictions of the plot where your family mausoleum will be placed. Stained glass windows for the entranceway of your mausoleum can also be created.
Doors
Bronze mausoleum doors are the standard today, and there are many options you can choose from. We offer a full selection of mausoleum doors and can assist you in choosing the right one for your private estate.
Stained Glass
With every walk-in mausoleum you purchase from Supreme Memorials, Inc., you can select one of the many stained glass windows we offer. Supreme Memorials, Inc. also helps protect the windows of your family mausoleum from chipping and cracking with a protective cover. Stained glass windows for your family mausoleum are installed by our professional staff at the time of construction. All of the windows we install come with a guarantee that they will not leak. If you would like to have a custom-made stained glass window for your eternal home, we will help you design it.
---
How Long Does It Take to Build a Mausoleum?
There are many factors involved in determining the actual time-frame it takes to construct your mausoleum. Though the average time to actually construct and complete your private mausoleum is only 1 to 4 weeks, it may take several months before we have all final approvals. Not only does the family approve the mausoleum, the cemetery also must approve the plans for the structure. Some cemeteries have their own team of architects and engineers on staff, while others must send the complete plans to a third party for reviewing. Generally speaking, a final approval can take as little as 2 weeks or up to 6 months before being completed.
Through our years of experience building some of the most elaborate family mausoleums in New York and New Jersey, Supreme Memorials understands that a construction project of this caliber cannot be rushed. When erecting a family mausoleum, careful planning is the only way to ensure that your family and your private mausoleum will stand for eternity.
---
For more information on how Supreme Memorials, Inc. can assist you and your family in building a mausoleum in any cemetery in New York, New Jersey, or Connecticut, please contact us today to schedule a free consultation.