Westbury NY's Best Choice For Cremation Memorials
Custom Cremation Memorials For Your Loved Ones By Supreme Memorials.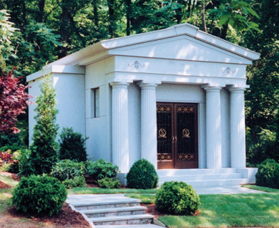 For over 60 years, Supreme Memorials has been providing New York with custom cremation memorials that have helped families remember their loved ones forever. Throughout the years we have preserved the same values and skills that our founders based the company on. Between our locations throughout Brooklyn and Staten Island we're proud to be one of the largest gravestone, mausoleum and columbaria provider throughout New York!
---
Mausoleums For Your Loved Ones in Westbury
Supreme Memorials has decades of experience building mausoleums for families, cemeteries, churches, and governments. We provide a variety of mausoleum options that can include hand-carved sculptures, columns, stained glass, etchings, and other custom options.
Custom Options For Your Mausoleum
There are many options available to help make your mausoleum custom. A custom mausoleum, when planned right, will reflect your own personal visualization. The options include bronze doors, stained glass windows, alters, entranceways, lobbies, sitting areas, and landscaping.
Entryways
Your private entrance to your family eternal estate can be enhanced by different mausoleum door options, granite benches, planters, steps, vases, sculptures, and art. We can even add marble sculptures and marble artworks if the cemetery allows. We can inform you if these options are available to you depending on the cemetery restrictions of the plot where your family mausoleum will be placed. Stained glass windows for the entranceway of your mausoleum can also be created.
Doors
Bronze mausoleum doors are the standard today, and there are many options you can choose from. We offer a full selection of mausoleum doors and can assist you in choosing the right one for your private estate.
Stained Glass
With every walk-in mausoleum you purchase from Supreme Memorials, Inc., you can select one of the many stained glass windows we offer. Supreme Memorials, Inc. also helps protect the windows of your family mausoleum from chipping cracking with a protective cover. Stained glass windows for your family mausoleum are installed by our professional staff at the time of construction. All of the windows we install come with a guarantee that they will not leak. If you would like to have a custom-made stained glass window for your eternal home, we will help you design it.
---
Columbariums & Cremation Memorials Westbury
Columbaria are growing in popularity as a unique and stunning option for memorialization. Consisting of any number of bronze vaults that contain cremated remains, columbaria can be anything from small monuments to elaborate structures.
Interior Columbaria
We often get requests to build custom columbaria inside of existing mausoleums and other structures, such as churches and chapels. At Supreme Memorials, Inc., we will work with you to create a design that fits seamlessly within any existing structure and work carefully and diligently as to not disrupt the surroundings in any way.
Additional Features Designed to Compliment Your Columbarium
Our master craftsmen can create a wide range of custom monuments to compliment and enhance your columbarium. We create beautiful memorial benches, statues, engraved bronze plaques, and much more. Let us handle every aspect of beautifying the landscape surrounding your columbarium to create the perfect environment for reflecting on the lives it memorializes.
Unlike the many providers of stock columbaria, the artists at Supreme Memorials, Inc. specialize in creating custom designs that can include engravings, statues, faceplates, and any number of unique features. We also assist in choosing the ideal site for your columbarium and design a layout that perfectly integrates with the existing landscape and surroundings.
---
When you need cremation memorials for your loved ones that you've lost, please contact us today for custom work that will last forever. We proudly serve the greater Westbury and New York areas with our one-of-a-kind mausoleums, columbariums, cremation memorials and more.