Monuments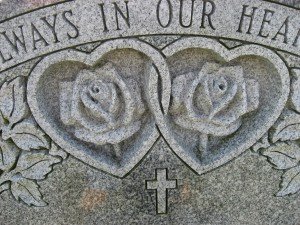 Here are some of the cemetery monument designs Supreme Memorials can offer. With new technology Supreme Memorials can offer any design both custom and stock. Custom memorials designed by our Headstone art team can do anything. Call us for a consultation to see how we can help you design your family grave marker for cemetery's we serve in New York or New Jersey.
Cemetery monument designs. MoreCemetery monument designs by Supreme Memorials Brooklyn N.Y.
Cemetery monument designs by Supreme Memorials, Inc. Located in Brooklyn New York Since 1951. Cemetery Monuments, Mausoleums and Inscriptions of Distinction. Headstone art page
Symbolism on cemetery monuments and their meaning.
Supreme Memorials has provided a list of the most popular monument symbols and their meanings. Supreme Memorials is located in Brooklyn New York and serves the New York Tri-State area cemeteries.
If you have ever wondered what a symbol on a monument represents then please keep reading. If you are looking to find the perfect symbol for your family monument Supreme Memorials has listed the most common symbols on monuments and their meanings. Symbolism on monuments send a powerful message and lasting message. Using a symbol on a monument uses much less space on your headstone or grave marker than the words it would take to describe its meaning. Supreme Memorials has taken the time to list and interpret some of the most common popular symbols on cemetery monuments. More
Hand carved cemetery monuments New York New Jersey by Supreme Memorials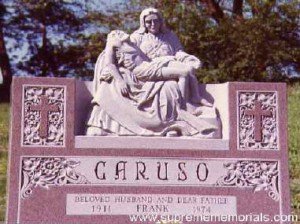 Hand Carved monuments that Supreme Memorials has erected over the years. We are able to hand carve any figure or figures into a granite memorial. Here are some samples. Supreme Memorials is located in Brooklyn New York.When choosing a family monument there are many cemetery monument design choices available today but none are as renowned as a hand carved cemetery memorial. Here are a few pictures of hand carved cemetery monuments that Supreme Memorials has created over the years in cemeteries such as Green-wood cemetery Brooklyn New York , St. Johns Cemetery in Queens New York, pictures of hand carved headstones in Resurrection Cemetery , Hand carved cemetery monuments in St. Charles Cemetery long island New York just to name a few.
Types of Monuments offered by Supreme Memorials, Inc.
Upright
Upright headstones' weight can vary. These headstones stand tall from the ground up. Upright headstones can be made out of various materials such as granite, brownstone, glass or marble. Most upright monuments today are crafted out of granite due to the natural strength and durability of the material.
Flat Headstones
Flat headstones are often referred to as ground-level headstones or grave markers. These headstones are flat and on the ground. They can be up to a couple inches off the ground. Flat grave markers can be used as foot stone to a larger family monument. With new technology these grass markers can truly tell a life story.
Bronze Monuments
Most Bronze monuments are grass markers. These flush markers are made out of cast bronze. Some of the bronze cemetery markers are doweled and pinned into a granite base. Bronze is also used for statuary work on cemetery memorials. Bronze lettering is now once again being offered for use on granite cemetery gravestones.
Obelisk
Obelisks are tall and have square bases. The obelisk tapers upward toward the sky. Sometimes the top of the obelisk can have a decoration such as a statue, pyramid or ball. In many cases instead of a decoration at the top of the capital there will be an urn. The obelisk is made up of a base, capital and shaft. Obelisk heights can range from very short to more than 90 inches.
Slant Style Monuments
There are many variations of slant style grave markers. Cemeteries have specific rules and regulations about the sizes of slant that can be used. A slant monument is normally low to the ground it can be one to two feet high the polished face sloping at about a 45 degree angle. The slant memorials are always supported by a foundation. And a headstone base can raise the slant marker off the ground as to not hide the lettering from the planting or desirable of a different look. The inclined inscription surface of slant headstone not only contributes to the prominence of the inscription, but also, unlike the flat or flush marker it sheds the rainfall and nature, which keeps it clean
Bench Style Monuments
Bench Style Monuments are a style of memorization where the family can use the monument to have a place to sit and reflect at the grave site. There are many types of benches used in memorialization of loved ones. Bench gravestones can be made in all shapes and sizes. Benches are also used for fund raising sites, accents to estate plots and in the interior or exterior of private family mausoleums. Benches can also be used for entombing cremated remains of your loved ones.
Private Family Mausoleums
Private family Mausoleums let the family be in total control on how they will be remembered throughout the test of time. A private Family Mausoleum perpetually stands as a testament to a family's style, distinction and accomplishment, and lasting symbol of lives that truly made a difference. There are many design options for building, interior and the perpetual landscape of their mausoleum site. For more information on Private Family Mausoleums please click here
Sarcophagus
A sarcophagus is an above ground tomb. Unlike a private family mausoleum a sarcophagus you do not have the ability to walk in. Sarcophagus can be made for one interment or to hold dozens of interments. For more information on Sarcophagus please visit our mausoleums page.
Community Mausoleums
Unlike a private family mausoleum Community Mausoleums are Affordable and Convenient and provide an everlasting memorial to those entombed within. Families can purchase a space in a community mausoleum for one family member or for their whole family. Some community mausoleums offer semi-private space for families to purchase. Families wishing for above ground entombment that cannot afford a private family mausoleum or do not wish to undergo the planning involved with creating their own eternal estate a community mausoleum is a viable choice
Angel Shaped Monuments
Growing in popularity again angel monuments come in a variety of sizes and shapes. Most angels are hand sculpted and hand carved. Quality varies. Some angels are now being mass produced in China and India. Supreme Memorials, Inc hand carves each angel in our facilities. We have the ability to custom design your angel monument all the way down to the details of the face. This is one reason families choose to work with Supreme Memorials, Inc because they work with the carvers directly.
Cremation Memorials
Families looking for traditional burial monuments but still want to be cremated now have options. With new technology Supreme Memorials, Inc has many different styles of cremation memorials ranging from bench memorials, to upright family monuments and private family columbaria.
Green Monuments
Green Monuments offered by Supreme Memorials, Inc include natural boulders, river rocks and locally quarried granites are suitable for a green burial memorization since it is made from materials/substances that are nontoxic and readily biodegradable. Also the materials will be harvested locally thus the manufacturing and transporting of these materials will not require the tremendous amount of energy which causes enormous carbon emission. Supreme Memorials, Inc can help you make a green choice for a tombstone.
Civic Monuments
Supreme Memorials, Inc is proud to build Civic Memorials. Please call our office for further assistance. No project too big or to small.
Fund raising
To meet your fund raising goals you can count on Supreme Memorials, Inc expertise. We can engrave bricks, install benches, and design a fund raising campaign that meets your needs.