Beautiful Grave Markers Around Babylon NY
When You Need Grave Markers For Your Loved Ones, Trust Supreme Memorials
When you need to choose a monument for a family member, there are many different choices you'll have available - but none of them are as renowned or timeless as hand-carved memorials. Our team is experienced enough to create any figure or figures into both granite memorials or headstones that help to create a one-of-a-kind monument that is beautiful, timeless, and honoring to the deceased.
Supreme Memorials has three convenient locations in a historical area of Brooklyn New York, as well as two locations in Staten Island. You are welcome at any time to visit the largest indoor display of monuments and grave markers in New York!
---
Custom Gravestones & Grave Markers In Babylon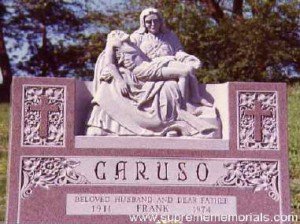 Trying to choose gravestone or grave marker can be a tough decision, which is why we try to make it as easy as possible for you. We can create any sized or style gravestone to serve as a memorial for your loved one. Our designs are custom, beautiful, long-lasting, and will help you to remember your loved one for years to come. Below are just a few of our gravestones that we offer throughout the Babylon area:
Upright Headstones
Upright headstones stand tall from the ground up and can be made out of various materials such as granite, brownstone, glass or marble. Most upright monuments today are crafted out of granite due to the natural strength and durability of the material.
Flat Headstones
Flat headstones are often referred to as ground-level headstones or grave markers. These headstones are flat and typically sit a couple inches off of the ground. Flat headstones are also commonly used as foot stone to a larger family monument.
Slanted Headstones
There are many variations of slant-style grave markers. Cemeteries have specific rules and regulations about the sizes of slant that can be used. A slant monument is normally low to the ground, lifting only 1-2 feet high, with the polished face sloping at about a 45-degree angle. Slant memorials are always supported by a foundation, which raises the slant marker off the ground as to not hide the lettering. The inclined inscription surface of slanted headstones not only contributes to the prominence of the inscription, but also, unlike the flat or flush marker, it sheds the rainfall and nature keeping it clean.
---
Grave Monuments
Obelisks
Obelisks are tall and have square bases. The obelisk tapers upward toward the sky and will sometimes include a decoration such as a statue, pyramid or ball near the top. In many cases, instead of a decoration at the top of the capital, there will be an urn. The obelisk is made up of a base, capital and shaft and can range from very short to more than 90 inches.
Bench Monuments
There are many types of benches used in memorialization of loved ones. Bench gravestones can be made in all shapes and sizes and are often used for fundraising sites, as accents to estate plots, and in the interior or exterior of private family mausoleums. Benches can also be used for entombing cremated remains of your loved ones.
Green Monuments
Green Monuments offered by Supreme Memorials, Inc. include natural boulders, river rocks and locally quarried granite. These green monuments are suitable for a burial memorization and are made from materials that are nontoxic and readily biodegradable. The materials are harvested locally, reducing the amount of energy required to transport them. Supreme Memorials, Inc. can help you make a green choice for a tombstone.
---
See What Satisfied Customers Are Saying About Our Grave Markers in Babylon
"I wanted to send you a personal thank you for the job done on the Armellino grave stone at St. Charles Cemetery. Simply said the work is outstanding. My family and I appreciate the great job that was done and will recommend you to everyone we know as its very hard to deal with these things in life but you made it much easier. Thanks again for all your help and support in getting the job done."

Ron Armellino
---
"I just wanted to let you know I was at Ocean View cemetery this weekend and the grave inscription for my mom looks great."

Gracias
---
"I have attached a picture of my brother's Monument. Joe, I cannot begin to tell you how beautiful the monument turned out. It is just perfect and everyone in the family is appreciative of the effort that you and your family put forth to make the monument a possibility. I was correct in assuming that your work was above and beyond better than any work that most people from that area had ever seen (Niagara Falls NY). You will always have a business reference from me and I know that if I should ever need a monument in the future, Supreme Monuments is the only place I will go."

Mark C.
---
When you're looking for grave markers for your loved ones, Supreme Memorials can help. We have the largest selection of gravestones & grave markers throughout Babylon, whether you need custom or stock designs for your loved ones.